Join The KOA
Last Update: 16 Jan 2006
---
Why Join the KOA?
Have you ever wondered what itís like to be an umpire or referee? Do you see yourself becoming an authority and interpreting the rules to enable a hard, fast and clean game?
Well, here is your opportunity! Join the Kaiserslautern Officials Association and discover the joy and rewards of officiating the game!
The KOA offers several sports to officiate all across Europe! Sports include football, softball, basketball, volleyball, soccer, wrestling, and baseball. Many, many to choose from to officiate!
You will gain a new appreciation for the game, enjoy comradeship with the other officials, and help your community immensely all at the same time! Remember: Without officials, there are no games!
Be a part of America's greatest games TODAY !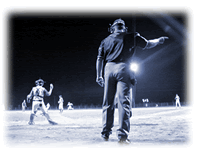 As a member of the KOA, we can offer you:
● Continuous education and training
● Flexible scheduling
● Wide range of leagues and age groups
● Assignments in your area
● Feedback and evaluation
● A chance to be the best
● Excellent Pay
---
E-Mail genem@bunt.com With the Following Information to Join the Kaiserslautern Officials Association TODAY !
1. Name (Last, First, MI):

2. SSN:

3. Telephone Number:

4. E-Mail Address:

5. Mailing Address:

6. Prior Officiating Experience:
---
You Will Hear Back From the KOA Shortly
Thank You!